Sanhua Holding Group Attends the 30 Anniversary Celebration of Sino-American Refrigeration Air-Conditioning Industry
On Oct. 10, the 30 Anniversary Celebration of Sino-American Refrigeration Air-Conditioning Industry was jointly hosted by GMPI and CRAA in Beijing, China. AHRI president Christopher Drew and CEO Stephen Yurek, experts from EPEE, EHPA, VDE, KRAIA, as well as entrepreneurs from famous heat pump companies attended. Sanhua group president Zhang Yabo, chief scientist Dr. Huang Lin-jie, and Sanhua Micro-channel R&D director Dr. Gao Qiang were invited to the party.
GMPI president Fan Gaoding told the story of Sino-American Refrigeration Air-Conditioning cooperation beginning at 30 years ago. Mr. Fan thought Chinese products quality has been much better then ever, but we still work hard together to keep moving. The communication between GMPI and AHRI plays a very importnat role in HVAC&R industry development.
Stephen Yurek gave a speech to review the long-term cooperation and good partnership between AHRI and GMPI, as well as CRAA. He also introduced AHRI's certification in global refrigeration and air-conditioning industry, and will keep close ties with Chinese market and enterprises.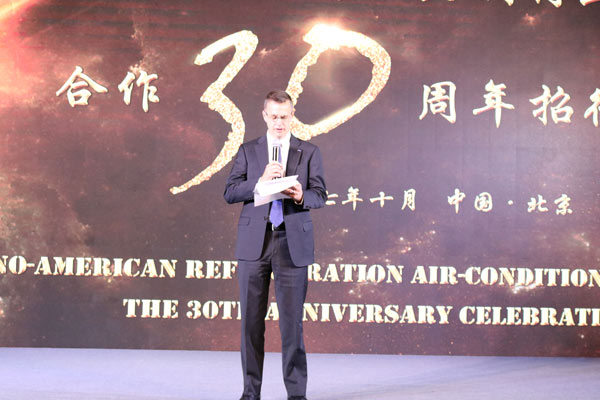 The first International Forum on Heat Pump Technology and Application was held the next day. The forum them is "Heat Pump Make Life Better". Mr. Zhang Yabo attended the forum, together with Gree Electric Appliances CEO Huang Hui, Midea Central Air Conditioning GM Tian Mingli and Haier Central Air Conditioning GM Wang Li.
Mr. Huang Lin-jie made a speech named "Focus on components innovation to improve energy efficiency in HP system", claiming that enhanced vapor injection (EVI) is the perfect solution to low temperature heat pump. Dr. Huang also analyzed Sanhua components' high performance and advantages, especially aluminum brazed plate heat exchanger, micro-channel heat exchanger, DC inverter controller and electronic expansion valve etc.
"Create low-carbon footprint innovation that provide energy-savings to support a high quality fresh and pure global environment", Sanhua focuses on advanced technology and high quality products to help global energy conservation and emission reduction.