Sanhua Intelligent Exhibits at Bangkok RHVAC 2017
BANGKOK, Thailand, Sept. 7, 2017 -- Sanhua Intelligent attended Refrigeration Heating Ventilation and Air-Conditioning (RHVAC 2017) in Bangkok, Thailand. The RHVAC is the largest and most professional trade in Southeast Asia, having the theme "Eco Innovation for a Sustainable Future" this year.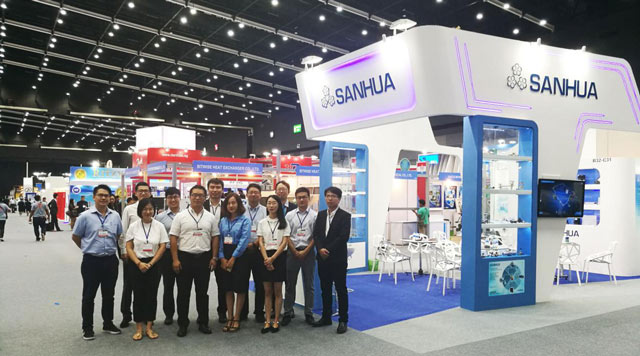 Sanhua Intelligent cased leading technology and hot products like solenoid valve, TXV, EXV and its controller, temperature sensor, pressure sensor etc. which attracted many guests. Guests from Midea, Hisense, Carrier, Patton, Thermedez, System-form, Panasonic appliance and Mitsubishi Electric Group visited Sanhua Intelligent booth.
As for heat exchanger, we have not only small microchannel condenser and evaporator applied in household refrigeration but also standard micro-channel condenser with housing and collar, 2 rows micro-channel condenser and air-air heat exchanger applied in commercial refrigeration. Aluminum brazed plate heat exchanger is a big hit. It is remarkable that our dealer Thermedez has displayed Sanhua MCHE product in condensing unit at the .
Complete agent layout has formed in Southeast Asia after two year's effort. as a "star" exhibitor at the regional refrigeration , Sanhua Intelligent received guests from Malaysia, Vietnam, Philippines, Indonesia, Singapore, India, Australia and New Zealand. People are willing to come and communicate with Sanhua Intelligent as old friends and business partners.
Mr. Nero Huang, marketing manager of Sanhua Intelligent made a speech entitled "Sanhua Intelligent leading technology and system solutions" during the , pointing out that Sanhua advanced technology and products used in refrigerator, heat pump and VRF system economically is a trend that will continue for the foreseeable future.
Sanhua Intelligent has devoted itself to developing control technology and lean production to provide customers with more integrated solutions and one-stop service. There is no doubt that Sanhua Intelligent will thrive in Southeast Asian refrigeration market in the future.