Sanhua Exhibits at 2018 Canton Fair
GUANGZHOU, China, Apr. 15, 2018--Sanhua presented various new and innovative products at the 123rd China Import and Export Fair, also known as Canton Fair in Guangzhou, China.
If you came to Canton Fair Complex and Sanhua booth, you will see a much large collection of people from various nationalities to communicate about products and technology. We bring Sanhua valves, micro-channel heat exchanger, freezing pad, as well as Aldoc small home appliances and Foremost PVDF films. About Aldoc and Foremost, please see their sites: en.aldoctech.com and www.fumotech.cn/en/
Here we have three star products which is very popular among buyers.
Star 1 --Portable High-pressure Coffee Maker
It is compact, lightweight and portable to let you have authentic coffee by hand pressing making coffee with ground coffee powder, Nespresso, Caffitaly, Dolce Gusto capsule. Besides, it owns car ger water heating and USB keep coffee warming, which is ideal for people on the go and coffee lovers.
Star 2 --Digital Nano Ceramic Multi-functional Electric Grill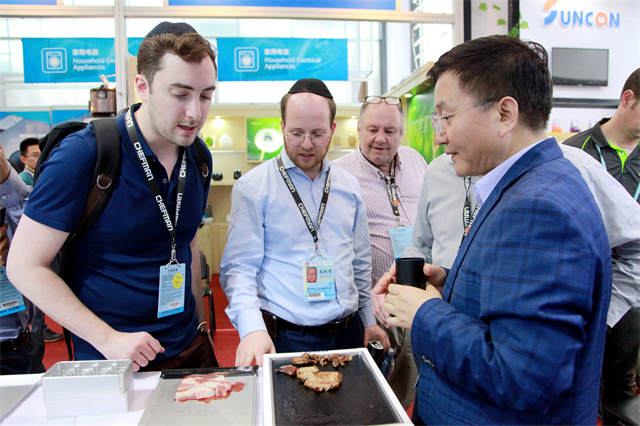 It is made of Aldoc nano film instant ceramic glass heating plate which ensures high efficiency and energy saving in full continuous surface area heating. It is equipped with digital user surface and intelligent touch screen to make you cook most foods in 5 min or less for a nutritional breakfast, delicious dinner on the table in no time.
Star 3 --Freezing Pad
Sanhua Home Appliance freezing pad speed up 3X the freezing process and 4X the defrosting process for better taste and nutritional benefits. No power and no battery in it but Sanhua high technology, you must love it.
What would happen when star 2 meets star 3?
Supposed that you have a steak that just take out of the fridge, frozen and rock-hard. First let's put this steak on the freezing pad, which helps to defrost very fast, soon you can start to grill this steak on Aldoc digital nano ceramic multi-functional electric grill, and you will taste a nice steak.
Sanhua always has good products beyond your expectation, and we are on the way to technology innovation to provide customers with excellent products and solutions.